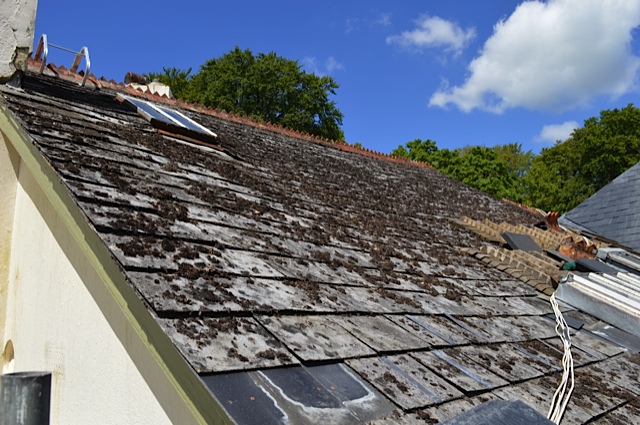 Case Study: Roof restoration on 200 year old property
Foamroof successfully complete a part spray foam restoration, part re-roof of an extensive character property. Another delighted customer!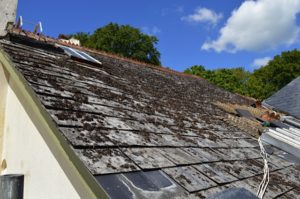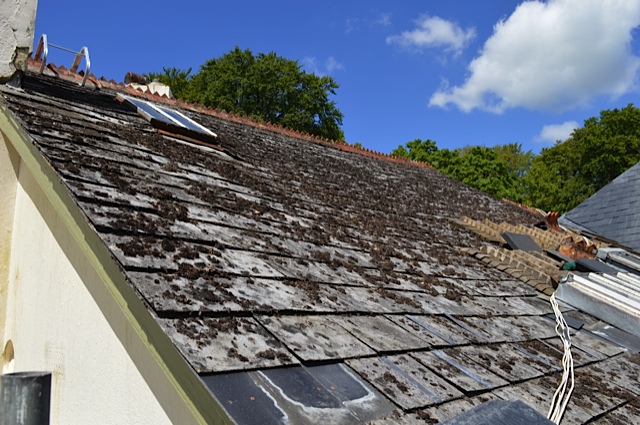 The original house was built as a thatched property circa 1800's. Circa 1900 the old thatch roof was replaced with a slate roof. The original thatch construction still remains and the "new" roof was built over the original timbers which all remain in place.
Over a hundred years later, the roof was starting to show it's age, to say the least!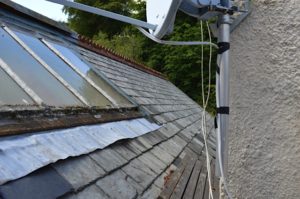 Our surveyor identified that one section of roof was in saveable condition and could be restored using our polyeurethane sprayfoam technology whilst the rest was beyond repair and would need complete replacement.
Our customer decided that the saveable section would be a good proving ground for Foamroof, so we started there.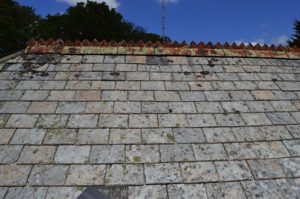 We took care of our usual remedial works, replacing slipped slates and repointing the ridge. We took effort to maintain the original character of the roof by salvaging and cleaning the decorative ridge tiles.
Finally we were able to spray polyeurethane foam to the underside of the slates locking and bonding all 2,500 slates together so they will no longer slip and allow water to ingress.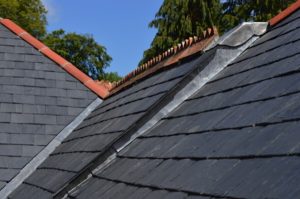 Our customer was so pleased with the result that we were asked to look at the other elevations. Unfortunately they were beyond the end of their life. The original slates were over a 100 years old and some had become so brittle and thin that simply touching them made them crumble and leaks were apparent throughout. A new roof was the only option.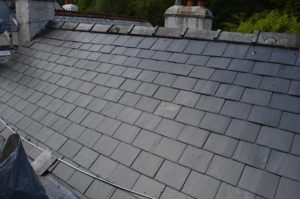 Our agreed approach was to prioritise the elevations that were leaking most seriously and then secure and insulate them with polyeurethane sprayfoam before moving onto the other elevations. The photos show mostly the front elevation.
The challenges for us were working around such an old structure with an existing old thatch roof below that the customer wanted to retain! The work involved stripping the old roof very carefully and replacing all the old batons and installing new breathable felt, new batons and stunning new slates.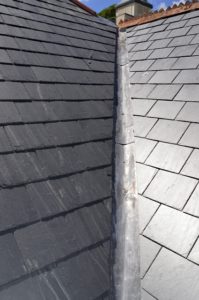 There were also numerous lead valleys, chimney flashings, lead abutments that required specialist skills. One of our roofing specialist teams has a lifetime of lead experience working specifically for the National Trust on period properties.
Some of the roof elevations are still to be completed, but this represents an excellent re-roof using the most traditional, skilled approach for external appeal and harnesing technology to reduce heat loss and therefore energy costs.
Call us now on 01202 026012 and arrange a free roof MOT.
A couple more photos showing the inside of the roof space.