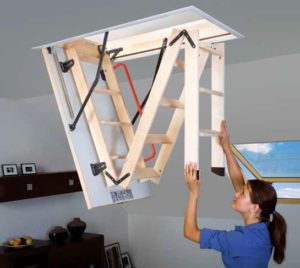 A good loft ladder enhances the ease and comfort with which you can access your loft. We believe that Fakro produce the most durable, stable and best value ladders on the market based on our years of experience installing ladders from a number of manufacturers.
The LWK Komfort Loft Ladder is a 3 section folding ladder made of highest quality pine wood, supplied with an insulated hatch door and red-painted metal handrail.
The hatch door is white on the inside and outside. There is a considerable space between the treads and the hatch door. Such design makes stepping onto the treads easier, thus increasing the ease of using the ladder.
Safety grooves are cut into the treads to prevent slipping. Treads are fitted using dovetail joints for added durability.
The red-painted metal handrail is mounted on the ladder's angle brackets. This makes climbing the ladder easier. The brown stile ends, mounted on the ladder feet protect the floor from scratching and increase the ladder's stability.
The ladder is supplied with a three-year manufacturers warranty.
| | |
| --- | --- |
| Technical Specifications: | |
| permissible loading | 160 kg |
| heat transmission coefficient U: | 1,1 W/m2K |
| insulation thickness: | 3 cm |
| hatch thickness: | 3,6 cm |
Foamroof Installation and Fitting
The loft hatch requires a minimum opening (dependent on size, see below) and must be fitted in an area free from electrical or other service obstructions.
We do not fit ladders over a stairwell or where a truss roof does not have wide enough joists (since these should not be cut). We may also have to decline fitting a loft ladder in an artex ceiling where asbestos is present. Our surveyor will identify any such problems during his initial visit.
If appropriate we may recommend that the loft hatch is moved to take better advantage of head height or maximise the useable floor area of your loft! Scissor variations are also available for restricted access. Although these are more expensive!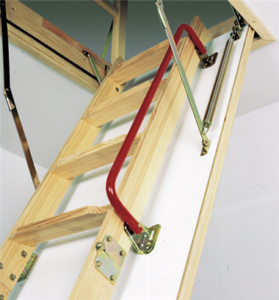 Our Fakro ladders come in two sizes, depending on stock and availability:
55cm x 111cm or  60cm x 120cm
The maximum ceiling height is 2.8 metres (9′ 2″) so our ladders are suitable for most ceilings. Our surveyor will confirm your ceiling height during his initial visit.
If you have any concerns or questions please discuss with our Operations Team or the surveyor before work commences !