loft insulation ALL Areas
Foamroof specialises in cost effective, long lasting and attractive repairs to roof problems using the latest polyurethane spray foam loft insulation technology from BASF. We offer our services in all areas on the South Coast, Plymouth and surrounding areas. In most cases a spray foam roof repair will be significantly cheaper, stronger and will last at least as long as a traditional tile and felt re-roof.
The spray foam is applied to the underside of your roof creating a warm usable loft space and reduces heat-loss by up to 80%. Depending on the design and structural condition of your roof the Foamroof spray foam insulation can be used to bond roof tiles securely in place ensuring the integrity of your roof even in the worst of weather conditions.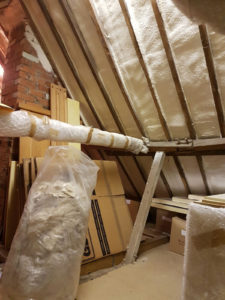 We first carry out a free roof mot and survey to indentify any essential remedial works. Then, subject to your approval one our experienced roofing teams will make the necessary repairs before sealing and strengthening your roof with the Foamroof polyurethane spray foam insulation. All works are carried out with the minimum of fuss and mess and we will leave your roof warm, dry and tidy. Our attention to detail and quality workmanship allows us to guarantee your roof to be free from leaks and damage for a period 10 years.
In some circumstances it's possible that a roof is beyond economic repair using spray foam technology. Our survey will highlight this and we are able to provide a high quality, traditional tile and felt replacement re-roof as required.
We also supply and fit industry leading Velux windows and Fakro loft ladders
Advantages of polyurethane spray foam roof restorations in Plymouth
Most obviously, one advantage of spray foam roof restorations is the cost which is typically less than a third of the cost of a full re-roof. However, there are many more advantages to consider with Foamroof spray foam insulation. We also have numerous existing customers in the Reading area that you could either speak with or go and see.
Strength – Our polyurethane spray foam insulation is surprisingly strong. When bonded directly to the back of the tiles it makes the entire roof a single, extremely strong but flexible structure. Loose tiles blown off by storms are something for other people to worry about. Even sprayed to the felt it adds rigidity to the structure extending the life of the building.
Longevity – A professionally restored, spray foam insulated roof will last the life of the building according to the BBA certificate. Our surveyor will carefully assess the condition of your existing roof tiles to ensure they have many years of serviceable life.
Energy efficiency – Foamroof spray foam insulation is an excellent insulation material. Spray foam insulation can reduce the heat loss through your roof by up to 80%.
Lack of disruption – Once any remedial work has been carried out (this is usually inexpensive and non-disruptive) a spray foam installation can usually be completed in a day or two. Compare this to a full re-roof which might take at least 3 weeks, involving full scaffolding and potential risk of damage from adverse weather.
Breatheable – The Foamroof spray foam insulation is designed to be 5% open cell. This creates the right balance of strength and rigidity whilst still allowing sufficient air movement to allow any moisture to evaporate.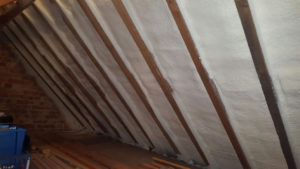 When is a spray foam insulation not appropriate ?
The main reason for not recommending a spray foam insulation is if the condition of the majority of existing roof tiles have deriorated such that they are fragile and crumbling and therefore need to be comprehensively replaced.
Other possibilties are that there is structural damage to the roof timbers, perhaps caused by un-treated water ingress. If it is beyond repair we would recommend a full tile and felt re-roof.
Our free roof MOT and survey will uncover any such issues and we will be able to advise you of the options.
Have you seen us at B&Q Plymouth?